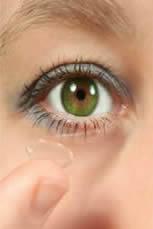 At Chelmer Village Opticians we can provide a vast range of contact lenses to suit almost all individuals, and different equipment to take measurements and check the health of your eyes to ensure we only recommend what is best for you.

Have you thought about contacts?

There has never been a better time to wear contact lenses. New lens designs and materials are available and modern lenses are more comfortable and affordable than ever before. We have lenses for special occasions and sport, as well as for general wear and extended (overnight) use.

Contact lenses give you the convenience to see all around without annoying rims of spectacle frames spoiling the view. Many people feel that they are more natural and comfortable wearing contact lenses, giving you the chance to just wear normal sunglasses on holiday or not having to worry about the rain when you are outdoors.

Contact lens trial anyone?
At your first appointment we will assess your suitability for lenses and explain your options. If there is a problem that may mean less than 100% success we will tell you about it and explain the consequences. It may be that you need a special lens. We will explain why and clearly explain the costs involved. After we have fitted the lens, we will arrange when you can come in to be taught how to put them in and take them out. For anything other than daily disposable lenses, you will need to use solutions to disinfect and clean the lenses and a case to store them overnight. We will discuss which the best solution is for you, and give you some to try for a few days.
Click on the images below to find out about the different brands of Contact Lenses.


Am I too young or old for contact lenses?
We have patients who are in there 70's as well as children as young as 7 years old who we have fitted with lenses. With the newer materials, lenses are far healthier and easier to use, as well as being more cost effective compared to years ago. Recent research has found that in some cases, Ortho K lenses worn overnight can even slow down the rate the short sightedness (myopia) progresses.
I need reading glasses, are contact lenses still suitable for me?
There are many modern lenses acting like Varifocals, which allow you to see both reading and distance, also we can try Monovision which involves wearing different power lenses to correct both the distance and near with each differently.
Finally, we can also correct just the distance vision, and a lot of people are happy just putting on reading glasses as required. The more motivated you are, the more likely we are to succeed in correcting your vision satisfactorily.
Are lenses really expensive to use?
We charge a fee for the contact lens trial, but if you decide not to proceed, you are not committed to paying anymore. The fee covers the initial appointment, the follow-up appointments and however many visits required to ensure you are confident with insertion and removal.
If we are happy to continue, the fee will also cover any appointment during the year. You only need to pay for the lenses and solutions. If your are planning on wearing lenses everyday, then it would be more cost effective to spread the costs and pay monthly by standing order. This covers all contact lens fees, solutions, and the lenses which can be delivered to the practice or even to your home address.
Prices start from as little as £14 per month although better lenses are available for very little more.
Please click here to arrange an appointment with one of our Optometrists or call us on 01245 461 843